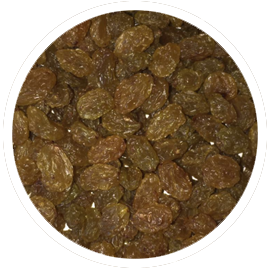 Orange River
GENERAL SPECIFICATIONS
Moisture Content : Product will have a moisture content of 14 – 17 % at time of packing.
Oil Description : Sunflower seed  oil will be used at a ratio of 3 – 5 ml to 1 kg fruit.
Appearance : Product will have a Light amber to light green color. Product will be free flowing and not sticky
Flavor : Will have a sweet flavor that of sun dried grapes.
Odor: Free from rancid or foreign flavors or odors
Texture : Soft to firm fruit without any unduly hard particles.
Production Process : Sultana seedless grapes naturally sun dried without any additives
Packing: Packed in 12.5kg, 13.6kg, 14kg, 15kg or 10 kg boxes. Inside box is a 50 micron plastic liner.
Infestation: Free from infestation or signs of previous infestation
Admixture: Product will be free from any potentially injurious particle of foreign matter, including glass, metal wood, plastic or other fragments.
Allergen : This product does not contain any type of allergens or SO2.
General description
: This product will be made from South African Seedless
Sultana Grapes The grading will be done on a 100 gram unless otherwise stated
| | | | |
| --- | --- | --- | --- |
| | Choice Grade: Laser sorted & double handpicked | Standard Grade : Laser sorted & double handpicked | Industrial Grade: Laser sorted & double handpicked |
| Minor Color Deviations | 2% | 5% | n/a |
| Major Color Deviations | 0% | 3% | n/a |
| Damaged Berries | 2% | 10% | 20% |
| Major Texture Deviations | 1% | 5% | 5% |
| Cap stems | 2% | 4% | 4% |
| Blemished Berries | 5% | 7% | n/a |
| Sugared Berries | 5% | 7% | 7% |
| Foreign Objects | 2 per 1000 Kg | 2 per 1000 Kg | 2 per 1000 Kg |
| Loose Stalks | 1 per 150 kg | 3 per 150 kg | 5 per 150 kg |
| Embedded Stalks | 3 per 15 kg | 3 per 15 kg | 5 per 15 kg |
| Sand (grit) mg / 200 g | 15 mg per 200 g | 15 | 15 |
| Sulpher Dioxide | Absent | Absent | Absent |
| | |
| --- | --- |
| BERRY COUNT | RAISINS / 100 GR |
| Jumbo-Jumbo | 70-100 |
| Jumbo | 100-130 |
| Bold | 130-230 |
| Medium | 230-290 |
| Small | 290-400 |
| Midgets | >400 |
MICRO BIOLOGY

Ochratoxin A

5 PPB

Aflatoxin       max 2 PPB B1 and max 4 PPB sum of B1,B2,G1 and G2

Total Viable count

< 10000

E. Coli

Absent

Salmonella

Absent

Molds & Yeasts

<1000

Total Coli forms

<100