Western Province Raisins
---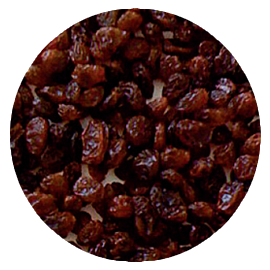 Western Province
General Specifications
Moisture content: Product will have a moisture content of 14-17 % at time of packing
Oil Description: Sunflower seed  oil will be used at a ratio of 3 -5 ml to 1 kg fruite.
Appearance: Product will have a uniform brown to dark brown color. Product will be free flowing and not sticky
Flavour: Will have a sweet flavor that of sundried grapes
Odour: Free from rancid or foreign flavours or odours
Texture: Soft to firm fruit without any unduly hard particles.
Production Process: Sultana seeless grapes naturally sundried without any additives
Packing: Packed in 12.5 kg, 13.5 kg , 14 kg,15 kg or 10 kg boxes. inside box is a 50 mic plastic liner.
Infestation: Free from infestation or signs of revious infestation
Admixture: Product will be free from any potentially injurious particle of foreign matter, including glass, metal wood, plastic or other fragments.
Allergens: This product does not contain any type of allergens or SO2.
General Description :This product will be made from South African Seedless Sultana Grapes.
The grading will be done on a 100 gram unless otherwise stated
| | | | |
| --- | --- | --- | --- |
| | Choice Grade : Laser sorted & Double Hand picked | Standard Grade : Laser sorted & double handpicked | Industrial Grade : Laser sorted & double hanpicked |
| Minor Color Deviations | 2% | 5% | n/a |
| Major Color Deviations | 0% | 3% | n/a |
| Damaged Berries | 2% | 10% | 20% |
| Major Texture Deviaions | 1% | 5% | 5% |
| Capstems | 2% | 4% | 4% |
| Blemished Berries | 5% | 7% | n/a |
| Sugard Berries | 5% | 7% | 7% |
| Foreign Objects | 2 per 1000 kg | 2 per 1000 kg |  2 per 1000 kg |
| Loose stalks | 1 per 150 kg | 3 per 150 kg | 5 per 150 kg |
| Embedded stalks | 3 per 15 kg | 3 per 15 kg | 5 per 15 kg |
| Sand (grit) mg / 200 gr | 15 mg per 200 gr | 15 | 15 |
| Sulpher Dioxide | Absent | Absent | Absent |
| | |
| --- | --- |
| BERRY COUNT | RAISINS PER 100 GR |
| Jumbo –jumbo | 70-100 |
| Jumbo | 100-130 |
| Bold | 130-230 |
| Medium | 230-290 |
| Small | 290-400 |
| Midgets | >400 |
| | |
| --- | --- |
| MICRO BIOLOGY | |
| Ochratoxin A | 5 PPB |
| Aflatoxin | max 2 PPB B1 and max 4 PPB sum of B1,B2,G1 and G2 |
| Total Viable count | <10000 |
| E. coli | Absent |
| Salmonella | Absent |
| Molds & Yeasts | <1000 |
| Total Coliforms | < 100 |